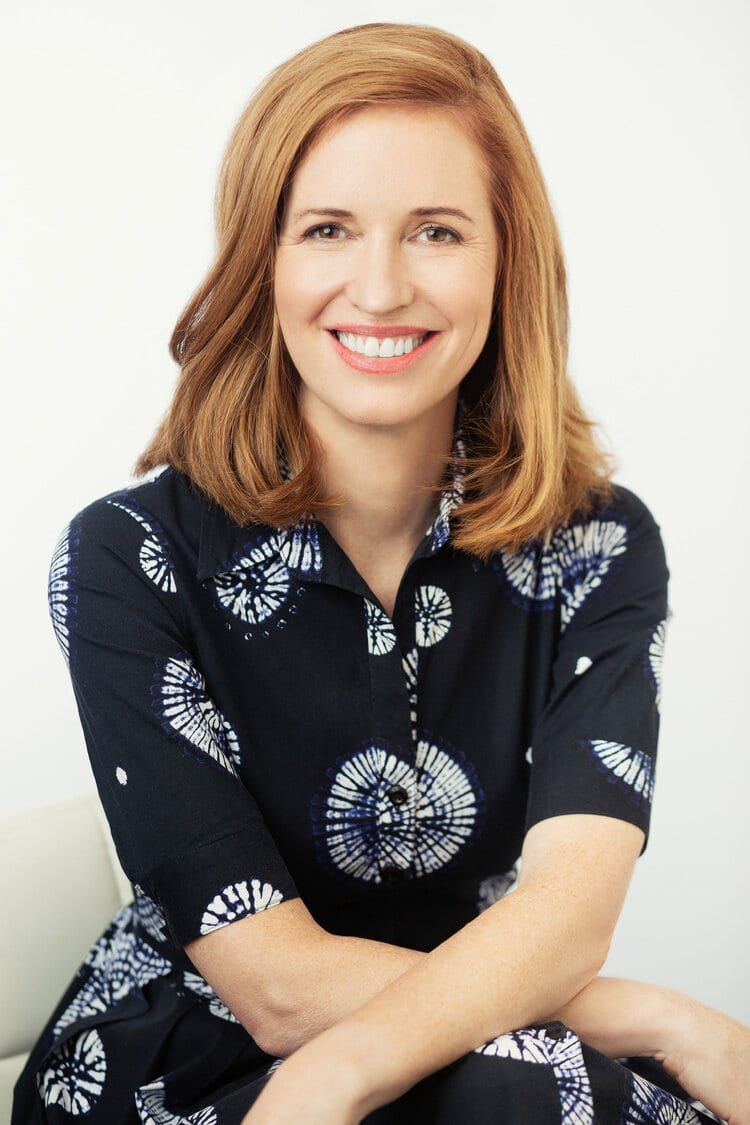 In Memoriam
Karen Postal, Ph.D., ABPP-CN
---
Dr. Karen Postal, Innovator in Neuropsychology
and Clinical Instructor at Harvard, passes away at age 52
Andover, MA – Karen Postal, Ph.D., ABPP-CN, board-certified neuropsychologist, renowned author, and clinical instructor at Harvard Medical School passed away March 20th due to ovarian cancer. She was 52 years old. Dr. Postal was an exceptional clinical neuropsychologist, who valued and refined the art of communicating neuropsychology in clinical practice with her patients and in the forensic arena as an expert witness.
Dr. Postal has served as president of the American Academy of Clinical Neuropsychology and is the author of three seminal books: The Art and Science of Expert Witness Testimony: A Multidisciplinary Guide for Professionals (Routledge, 2022); Testimony That Sticks: The Art of Communicating Psychology and Neuropsychology to Jurors (Oxford, 2019); and co-author of Feedback that Sticks: The Art of Effectively Communicating Neuropsychological Assessment Results (Oxford, 2013).
Dr. Postal was a Clinical Instructor in Psychology for the Department of Psychiatry at Harvard Medical School from 2011 until the time of her passing. Among her many clinical appointments, she was co-founder of the Memory Disorders Clinic and Staff Clinical Neuropsychologist for the Northeast Rehabilitation Hospital. Dr. Postal has also been President of the Massachusetts Psychological Association and the Massachusetts Neuropsychology Society. She was a founding member of the Inter-Organizational Practice Committee.
Dr. Postal was a passionate teacher and mentor, and had a private practice in Andover, Massachusetts, where she went out of her way to help others, touching the lives of patients and colleagues with her warmth and compassion, according to Margaret Lanca, PhD. and President of the Society of Clinical Neuropsychology (Division 40), "She will always be remembered as a beloved colleague, friend, and visionary professional," Dr. Dean Beebe remembers Dr. Postal as "having the rare ability to match quick wit and keen observations with an emphatic spirit … Karen lifted people up allowing them to see the world in a fresh, productive light."
Born in Washington, DC, Dr. Postal got her B.A. at the University of California, Berkeley, and her Ph.D. in Clinical Psychology at The Wright. Institute in Berkeley, CA.
Dr. Postal is survived by her mother, Susan Spangenberg, her sisters Anne Spangenberg and Susan Rausser, and her three children: Andrew, Robert and Caroline, whom she raised with her former spouse William Postal, MD.
A private memorial ceremony was held on March 23rd. In lieu of flowers, people may donate to a fund established in Dr. Postal's name at Mass General Hospital Cancer Center by designating: "Karen Postal Fund for Innovation" at https://giving.massgeneral.org/donate.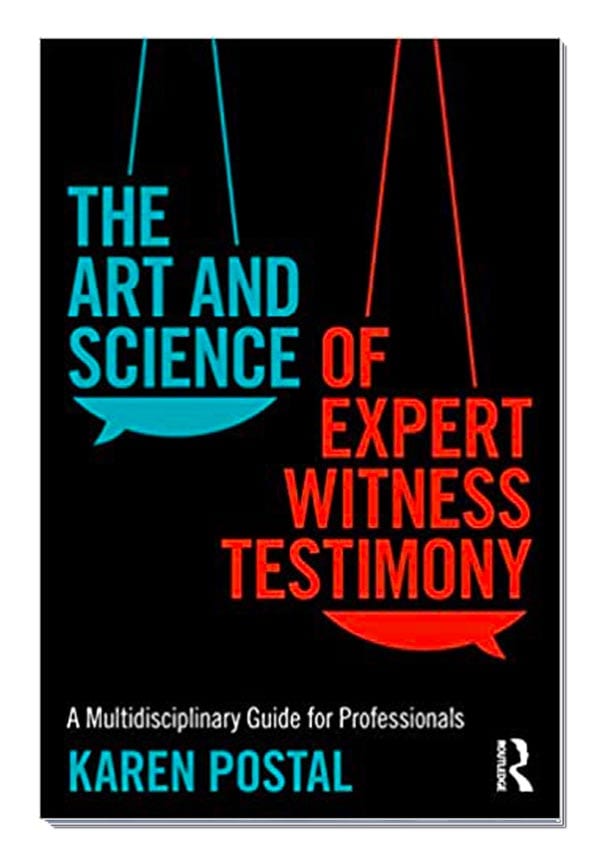 The Art and Science of Expert Witness Testimony:

A Multi-Disciplinary Guide for Professionals
by Karen Postal
The Art and Science of Expert Witness Testimony challenges the idea that testimony is a one way download from expert to passive audience and instead places the dynamic, unique communication relationship experts build with jurors at the center of the goal as expert witnesses. This multiyear research project shares in-depth interviews of attorneys, judges, and seasoned forensic experts from multiple disciplines including medicine, economics, history, and neuropsychology to offer practical insights for the communication needs and expectations of the courtroom that collide with an experts' communication habits.
The book expands the academic tradition of "methods-centered credibility" to also include "person-centered credibility," where warmth, confidence, and relentless attention to detail builds trust with jurors. This innovative research shines a light on the failure of traditional academic communication and introduces the art of accessing science and professional opinions with vivid, clear language and strong visuals to communicate a cohesive story during testimony.
Reading this book is like being personally mentored by over 85 attorneys, judges, and seasoned experts as they share their observations, insights, and strategies: not to "win" as a defense, prosecution, or plaintiff expert, but in the neuroscience behind helping jurors and other triers of fact do their difficult intellectual job in deciding a case.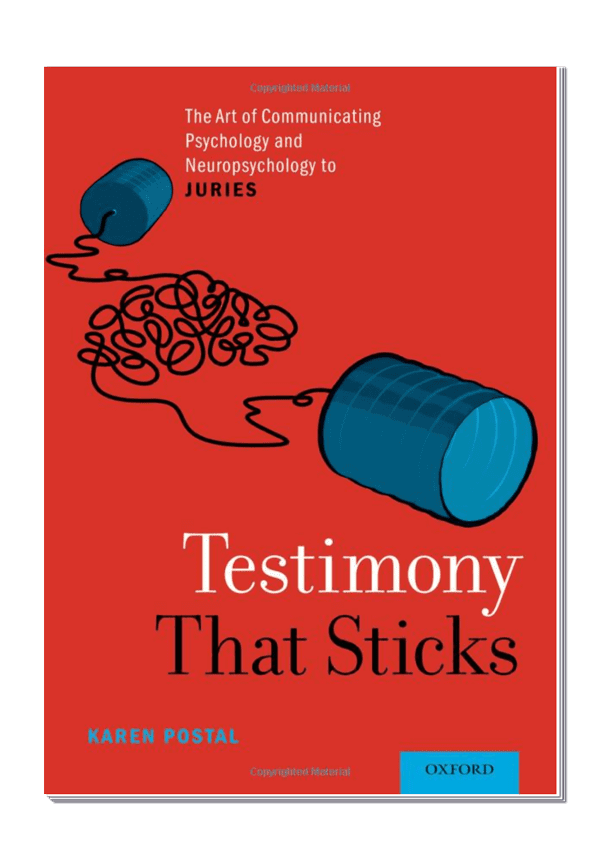 Testimony That Sticks:

The Art of Communicating Psychology and Neuropsychology to Juries
by Karen Postal
Dr. Postal demonstrates, through the words of forensic experts, how to translate complex, highly technical neuropsychological and psychological information for jurors in a way that is engaging, understandable, and sets the truth on fire (to quote Faulkner). Testimony That Sticks shares the fruits of four years of in-depth interviews with seasoned forensic neuropsychologists and psychologists, as well as attorneys and judges, to present what experts actually say on the stand.
This book allows readers to be a fly on the wall in a courtroom watching testimony strategies and techniques for communicating science to juries and other triers of fact in action.
At its heart, this landmark book shows how academics can shed their instructional, scientific training communication style to communicate clearly and simply about psychology and neuroscience by shedding jargon, freeing up body language, and using vivid, clear language to create moments of genuine, productive communication during testimony.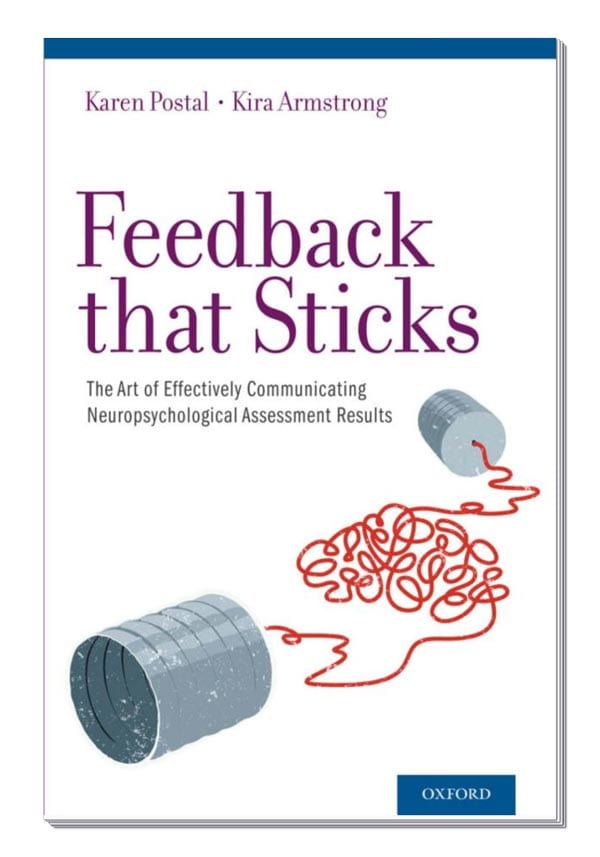 Feedback That Sticks:

The Art of Communicating Neuropsychological Assessment Results
by Karen Postal and Kira Armstrong
This book is about how to give outstanding feedback to patients, their family members, and other professionals. Effective feedback sessions have the potential to help patients understand their neurocognitive syndromes, in the larger context of their real-world environments, in a positive manner that is potentially life altering.
As our profession has matured, feedback sessions with patients and family members have become the norm rather than the exception. Feedback that Sticks presents a compilation of the clinical feedback strategies neuropsychologists use with patients who present with a wide variety of neurological and developmental conditions. Despite the burgeoning neuropsychological literature describing sophisticated assessment methods, there has been almost no parallel literature describing techniques for communicating this information to patients and other professionals. This book is essential training for neuropsychologists to effectively communicate intrinsically complex assessment results, and deliver the type of salient feedback that alters lives.